design
At Constell we go beyond tool design and manufacture. We get involved with customers at the component concept stage, using our knowledge and experience to advise on component design.Our experienced designers will assist you in developing your components so that they are designed for manufacture. By optimising component design to improve the processing window, reduce cycle times and minimise reject rates, they will help to improve component fill, tool life and aesthetics.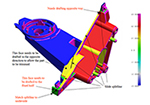 We have design expertise in a wide range of tooling, including plastic injection moulds for rigid and TPE type materials, diecasting in aluminium and zinc, rubber tools, machining jigs and fixtures, trim tools and more.

We cater for low volume component tooling all the way up to high volume repeat series tooling and every level in between.All our tools are tailored to the customer's specific needs.We can develop or redesign your problematic tooling.
Our tool designs are created in CAD software Solidworks or Seimens NX which enable us to handle numerous different CAD formats including STEP, IGES, PARASOLID, ProE, SOLIDWORKS, SIEMENS NX and STL.

Mould flow analysis and Magmasoft simulations are available.



Our general assembly reviews are all fully 3D. You won't need a super computer to review these3D GAs either, freeware viewers can be run on low spec PCs.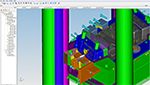 In addition we offer full 3D reviews with the customer via Skype We make tools for many prestige marques including many of the blue chip automotive companies.
Call us today on +44 (0)1706 646 936 or email us and we'll be more than happy to discuss your requirements.